Word: Ayu Arman
Difficulties will unexpectedly come into our lives. I had to swallow one of the bitter pills of life when love and marriage turned into misery and disappointment for me. I was almost 30 years old when I reached a hard decision to file for divorce. While coping with the hardship of what was once a sacred relationship, I had a critical career changing choice to make.
I had been working as a feature editor for a fashion and lifestyle magazine in Jakarta. Unexpectedly, I was offered a job from a local government leader in Raja Ampat District, one of the most secluded areas in West Papua, Indonesia. They needed a writer to promote Raja Ampat marine tourism. I instantly agreed and decided to quit my job in the hope that traveling could fix my broken heart.
Back in 2009, the Raja Ampat islands were unknown and unrecognized as a point of significance as they are today. Moreover, the media often portrayed Papua as an area troubled with conflicts and violence. My friends and family told me I was crazy when they heard about my decision to leave my job to travel all the way to Papua. However, my first trip to Raja Ampat in 2009 has changed my perspective. It even helped me clear my mind, assisting me to appreciate love and life.
Papua is located on the biggest island at the eastern end of the Indonesian archipelago. It has an abundance of natural beauty and wealth. The area is adorned with pristine forests, fresh meadows, rivers that carve the hills through thick woods, seas with abundant and beautiful underwater panoramas, snowy mountain peaks with glacial lakes, and mountains full of gold.
The Raja Ampat regency lies on the west of the Bird's Head (Vogelkoop) peninsula in Papua. It consists of islands that have been concealed, isolated, and unrecognized for a long time.
These islands are surrounded by precious oceans and preserved by long-held local traditions. Raja Ampat also owns one of the rare bird species, namely Red Cenderawasih and Wilson. Simply put, Raja Ampat has all the potential to be recognized as a special nature reserve as well as a superior marine tourism destination. Since 2009, the Raja Ampat local government had been keen to revive its tourism industry as a marine tourism destination.
The area is as described by its name, Raja Ampat. The word "Raja/king" refers to fame, ultimate power, and it also portrays the area as the crown where the highest spirits dwell.
Raja Ampat district's territory stretches over 4 million hectares covering land and sea, which has 1,844 pillars of islands, including the four largest: Waigeo, Batanta, Salawati, and Misool (Batanme).
Raja Ampat holds the charm of a beautiful underwater world, like a dream world in a fantasy story. It is later known as the Kingdom of Coral. The Indonesian Institute of Sciences (LIPI) noted that there are more than 540 types of hard corals, more than 1,000 species of reef fish, 700 species of mollusks, and the highest record for gonodactyloid stomatopod crustaceans. With such diversities, Raja Ampat owns 75% of the world's coral species. There is no other place in the world that own as many. Thus, Raja Ampat has become the hope of maritime life. Six of the ten most beautiful and best coral reef ecosystems in the world are located in Raja Ampat. They include Wakatobi, Taka Bone Rate, Bunaken, Karimun Jawa, and Weh Island.
I visited a small village called Arborek, which was surrounded by a vast ocean. The sea was all that the eye can see from this village. The sky was always strikingly blue, and it looked as if it was knitted together with the sky above it. There was no electricity, TV, newspapers, cellphone signal, or anything to connect me to the outside world. The only sounds that I often heard were that of the wind, the waves, the sound of the night animals, the cries or jokes of children from their homes built from old woods.
In the morning and evening, I would see the local children playing in the beach. They were bare-chested, had runny nose, looked shabby, and smelled fishy, yet they were happy.
At times I also saw women who only wore sarong to wrap their bodies up to their breasts, breastfed their children while eating areca nuts with their red lips, chatting to and fro. Their faces looked happy even with many shortcomings. Witnessing them prompted me to reflect on my life. "Hey, Ayu? Why are you so sad? You are so lucky compared to them. Look around you? And feel it!
Leaving Arborek, I continued my journey to Waisai, the capital of Raja Ampat. It is a fusion city of forests and beaches. Nine years ago, Waisai was still a quiet town. Waisai was initially a small hamlet with only 10 houses, one Public health center, and one elementary school with only footpaths connecting one place to another. The surrounding areas were virgin forests and some parts of the land were covered with wild bushes. Then slowly but surely, what was only a small quite town becomes the regency's center, administering other 24 districts scattered on various islands.
Afterward, I walked to Sauwandarek, Sawingrai, Yenwaupnor, Saleo, and Serpele village. They are located on the island of Waegio and separated by sea and forest. Every time I looked at the blue sea, my mind was mesmerized, bowing to its beauty and told myself, "Ayu, life is like the waves in the sea. Sometimes it goes up, and sometimes it goes down. We are the "surfers of life" who surf on the waves of life. Be a tough surfer. Train yourself to become resilient to the sudden crashing waves. " Yes, the sea of Raja Ampat has guided me to look into myself and taught me about the motions of life.
When I returned to the mainland, I felt sorry for the villagers. Lack of access had isolated them from the outside world. Their houses were walled and roofed with rumba leaves. There was no chair and table. They slept on the sand, which was also the floor of their homes. I will never forget their warm and joyful welcome to all visitors.
The hospitality of the local community touched my heart. I am pleased to know that now (2020), those villages that I have visited have become a tourist destination. Anyone now has the access to easily reach these indigenous communities. As a result, the conditions of the locals are now much better than they were before.
Throughout the trip, I realized that God had given me a broader space to live. I had the chance to travel and recognize my birthplace, the Indonesian archipelago. I have come to love my country more. I was given the opportunity to know more, see more, and understand more about a thousand different human perspectives.
Besides fulfilling my obligation to write, I also investigated how pluralistic religious communities were formed and live together in harmony. Different communities help each other during religious celebrations (Islam and Catholicism/Christianity) and traditional festivals. I have witnessed how the Raja Ampat community is open and tolerant of other religions.
I often participated in events that begin and end with the prayer of two religions – Islam and Catholicism/Christianity – together. Even if there are religious or tribal conflicts in Papua, I am sure that it was not the Papuan way of life. I guess selfish interests and agenda of certain people may have caused them.
The more I traveled from one island to another, the more I fell in love with my homeland, home to so many islands with various cultures. My country is not only a group of islands woven by billions of cubic water from Sabang to Merauke. It is not only a country owning a vast sea area, which reaches 5.8 million km2 and occupies 70% of the total land area. It is a country with 1001 cultural diversity, traditional ceremonies with a variety of uniqueness, unique dances, and food heaven inherited from a long time ago.
Likewise, Raja Ampat is not just a pivot axis of the world's coral, which becomes a paradise for underwater recreation lovers. It is also a place to find a variety of unique works of art and culture. There are many indigenous ancestral values or local wisdom that its people continue to preserve and express daily. Every song, poem, dance, and painting owned by the Raja Ampat indigenous people has its own meaning. They dance, sing, and live side by side with nature. Whatever they express in the form of dance, poetry, or painting has a relationship with nature, as well as the relationship with their ancestors and creators.
Raja Ampat has a culture and art that differ from that of the people who live in the central and eastern regions of Papua. The culture and art of Raja Ampat is a combination of Papuan and Islamic civilization from North Maluku.
There are various traditional dances that I witnessed at various traditional ceremonies or community events. They are called the Wor dance, Suling Tambur, Gemutu, Yospan, Mon, Yoko, Lan Jin, Walla, Bintaki, Massorandak, and Pangur sago, just to name a few. Raja Ampat dance patterns are generally dynamic, simultaneous, and sometimes rhythmic. Each dance has an interesting story behind them. They are a lot more than mere art of movement because the dances also represent social, moral, and spiritual systems of the people.
One dance that caught my attention the most was the sacred Wor dance. Locals performed Wor dance as a companion of sacred worship or traditional rituals such as the appointment of a new king, as a way to invite ancestral spirits, and it is also performed in traditional marriages and when welcoming guests. Based on the oral narratives of the customary elders I interviewed, the dance is one form of offerings to ancestral spirits that cannot be performed just by anyone. This dance is also performed when the tribe is preparing for war.
These rituals signify a request for guidance or inspiration from an ancestral spirit called the Mansren Nanggi, which in their belief would provide them with a vision of their future victory, or loss.
Initially, the dance starts with certain rituals such as burning incense, reciting mantras, and abstaining from food. Then gongs and different sizes of traditional drums are beaten simultaneously. The music will not stop until one of the dancers or leaders becomes half-conscious, similar to being possessed or hypnotized by a spiritual being. That is the sign of the spirit arrival to deliver the requested message.
My country is a home of various types of traditional dances. When I say traditional it means that it is a cultural heritage that has lived for a long time and hereditary. Almost in every traditional dance, we will notice how the dancers would gradually slip into a trance. I cannot explain precisely how it happened. Some dancers informed me a trance would take place when a dancer conducts certain ritual motions repeatedly, which would induce the mind of the dancer to be in a state of unconsciousness, like the ritual dance of the sufis. The state of being possessed implies they are communicating with their ancestors or possessed by their spirits.
For the people of Papua in general and Raja Ampat in particular, dance and sounds are the intermediaries of cultural communication. Dance and sounds are their ways of connecting with their ancestors. The paintings on the face and body become one essential accessory of the Papuan dance. They are not meaningless. The depicted paintings are a form of an ancient language, which are often used as symbols to summon or unite with ancestral spirits. They believe that our life today is nothing but a continuation of the past.
Prior to travelling to these remote areas in the east of Indonesia, I considered all traditional activities such as ceremonies, giving offerings to trees, the sea as well as to the ancestors' spirits were folly, plebeian, and also extravagant. However, since I met and lived with the people of Raja Ampat, I came to understand that the traditional ceremonies and offerings that I initially considered as foolishness turned out to be purposeful. The offering tradition carries a moral lesson so that the community maintains dan guards the forest, water, land, and the nature around them. Tradition can be regarded as a command to preserve and conserve the environment where we – humans – stand on the ground.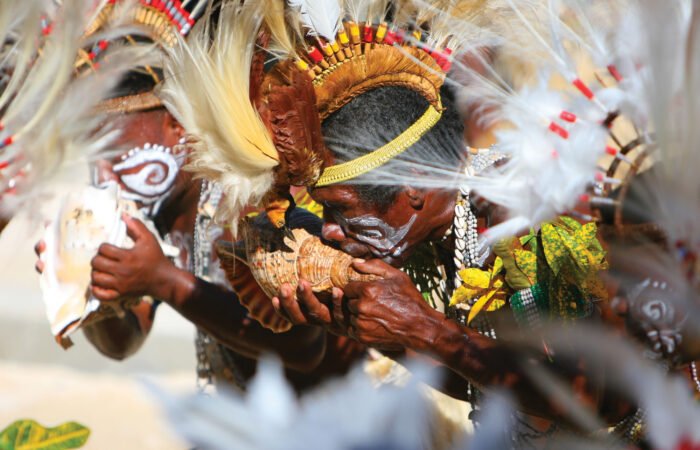 So it only makes sense to preserve the tradition of various ceremonies, offerings, and the belief in the existence of guardian spirits. Those who perform offerings believe that they appreciate the guardian of our natural world. They believe that the universe does not only belong to humans, so they must make offerings to request permission before using anything in nature.
My trip to Raja Ampat for this authorship was a blessing. It enabled me to visit and write about Raja Ampat and its small villages scattered on the island of Waigeo. Other writers might not experience such an opportunity. It turned out to be the first cure to heal my grieving heart. At the same time, it has opened my eyes to Papua's unique civilization, giving me a new perspective on life.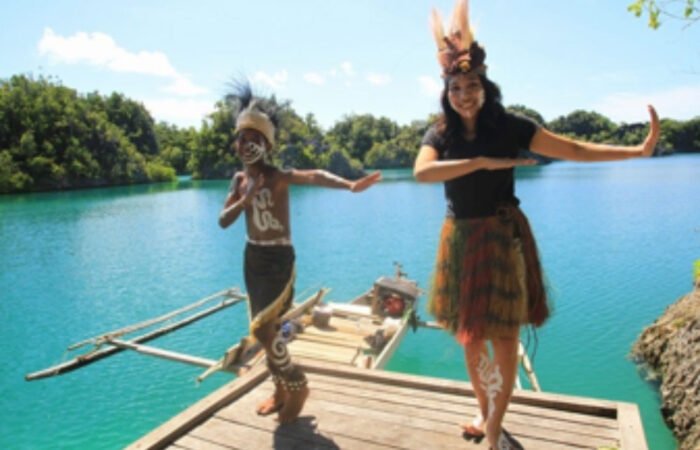 The more I traveled to the islands and high mountains in Papua, the more I loved this island. I felt the serenity and the purity of its nature. Even more so, I felt how the Papuans that I have met in the town or at the inland were sincere, loving, and caring people.
I was deeply touched by their heartwarming attitude. I learned so much about life from them, especially from the mothers. And the entire experience has enriched my mind with sensitivity and greater empathy for others. I realized that one's life journey is a continuous exploration. We will never know what's ahead and who we will encounter in the future.
If you want to come to Raja Ampat, you should take note of the following.
When should you come?
You can come to Raja Ampat anytime. However, I suggest you choose a good month. Avoid the windy season and big waves, that way you will be able to enjoy the view of the beach and explore the underwater world comfortably. However, if you want to see Raja Ampat's various dances and unique culture, then you should come in October when the Maritime Festival is held. The festival features a series of cultural performances and traditions of the Indigenous people, including musical performances, dances, kayaking, tracking, bird watching, culinary, and many more.
Ho do you get to Raja Ampat?
The nearest airport from Raja Ampat is in Sorong, which can be reached by flight from Jakarta, Manado, or Makassar. You can choose several local airline companies, including Garuda, Citilink, Lion Air, and Batik Air. Direct flights to Marinda Raja Ampat Airport can only be reached from Manado airport by Lion Air.
There are two transportations from Sorong to Raja Ampat. First, you can use a speedboat that goes daily to Waisai (the capital of Raja Ampat). The boat departs twice daily, at 09.00 and 11.00 Central Indonesia Time.
The duration of the trip is only two hours. You can also fly directly with Susi airlines, which will only take about 20 minutes. The airline provides small plane services departing at 09.00. You have to check their flying schedule first because they don't fly every day. Moreover, in order to explore the islands of Raja Ampat, you need to rent a speedboat. I recommended you to rent it in Sorong or Waisai.
Beautiful locations that you can visit.
Since Raja Ampat is a vast area, take the time to organize your trip and determine your budget. There are many beautiful sites to see, which will need time and investment. By planning it carefully, you will have the most experience. Some of Raja Ampat's tourism spots lie on the islands of Waegio, Misool, and Batanta.
Waigeo Island is the largest, which has the most number of small islands in the Raja Ampat archipelago. The island has mountainous and hilly terrain contours on the central axis to the coastal area. On this very island, you will find the city of Waisai, the regency government of Raja Ampat. There are many small exotic islands within this area which include:
Wayag-Sayang Islands.
Wayag is a marine protected area. The island is a tourism icon of Raja Ampat because it has beautiful coral islands and an amazing underwater life covering 155,000 hectares. Here you will find various small islands in different shapes and sizes on the sea colored with the nuance of bright blue and green. The coral reefs look just like mountains in greenesh color that line up in harmony. Uniquely, the color of the seawater on this island differs depending on its depth. The combination of green island clusters, clear seawater, and calm waves produce a fantastic landscape. If you see the island of Wayag from the top of the hill, your eyes would be mesmerized by the captivating sight, a view that may look like that of a fairyland.
Painemo Island.
A very enchanting natural view of the Pianemo destination is the cluster of karst rock islands. The location of a row of islands amidst the blue of the ocean makes a very harmonious blend to spoil the eye. To be able to see this beautiful scenery is a challenging struggle. Climbing the stairs will lead us to the top of the hill where we can enjoy the view. Painemo is also known as Little Wayag because of its scenery that resembles Wayag Island.
Krie Island.
This island is an exciting diving and snorkeling venue. In one dive, you will see thousands of fish species, hundreds of beautiful coral reef clusters, and mollusks surrounded by thousands of fish and other marine animals. If you prefer to not dive, you can snorkel to enjoy the natural wonders on Krie Island.
Mioskon Island.
This island is no less beautiful. This island would magically feels more attractive when you dive around it at night. The colorful corals will look brighter and shinier because they produce phosphate-like substances that glow in the dark. You will find coral types such as Spanish, Dancer, Cleaner Shrimp, not to mention and various snails. Once you reach 20 meters underwater, you would find the most memorable fish called Wobbegong with its white or grey dotted body and brownish-orange skin color. Wobbegong often rest on the sand floor, under the shade of a coral.
Friwen Island.
At the bottom of the island, you will find fish, mollusks, and other sea creatures. Generally, divers will be able to see Wobbegong by snorkeling. Divers can catch a glimpse of Wobbegong at the depth of 4 meters. These fish are often creeping among the sand and coral gaps. If you are lucky, you may also see some whales passing and spouting water from their giant heads.
Mansuar Island.
This island is the favorite diving spot. Here, divers can see Manta rays, which are the most massive stingrays in the world. This winged fish could be 7.6 meters wide and around 2,300 kilograms. Divers claimed that it would be their utmost satisfaction if they could dive with a herd of Manta rays and watch their wings flap, because this scene would feel like seeing a beautiful ancient dance.
Arborek Island.
On this island lies the Arborek Tourism village. Besides seeing Manta rays, you can also see millions of fish from above sea level. We can also feel the sensation of living with the local people on a small island in the middle of the sea. You can also visit the villages of Yenwaupnor and Sawinggrai that are located around the island of Arborek. You can observe the red Cendrawasih bird, also known as the Bird of Paradise, in both villages. This type of bird is very rare because they can only be found in mainland Papua. They produce this heavenly musical sound that is so beautiful and unique .
Biru River Mayalibit Bay
Raja Ampat's land and water will always have my admiration and awe. I often wonder about the course of the natural creation of these islands. In Mayalibit Bay, I found the Biru River deep inside a forest. Dipping in its water felt like being in a fairyland as you listen to various birds singing while the woods are whirring. The local people of Mayalibit Bay call the Blue River as Waiyal, which means river.
It has become the source of all lifeline in Mayalibit. The existence of the Blue River was considered a sacred place by King of war and his two warlords, called Masabok and Masafak. The two Mayalibit warlords often meditated by soaking their bodies overnight to increase their powers and ask for guidance from the ancestors before they go to war. This is why the river was heavily guarded by those called as Jairas from the Ansan clan to ensure its purity. Only those with special positions were allowed to come into the river. For generations, the Mayalibit community regards Biru River to own magical power.
Raja (King) River-Kabui Bay.
On this island you can find archaeological objects on the Kabui Bay island that has a historical value to the people of Raja Ampat. Legend tells that the bay is where the mythology where the name of Raja Ampat Islands originated. The tale is called The Seven Eggs of Raja River. It is a story about Waigeo the King of war, who chose a flat plot of land surrounded by hills as the center of his throne. The land was indented or recessed hence forming a bay, that was surrounded by steep cliffs. There is also a small river called Wai-Kei, which comes from the king's name, Waigeo.
The skull cave and other historical sites of Raja Ampat, all well preserved, await your visit. In a small cave near Wawiyai village, there are ancient sacred objects for you to see, such as the Pakatan egg mythology, human bones, ancient beds, plates, and other household appliances. The people of Wawiyai village believed those human bones are of their ancestors. Visiting the location requires the company of a traditional figure, which closely guards the area.
Misool.
Misool is a 2,034 km2 island located in the southernmost region of Raja Ampat. Raja Ampat's natural beauty again confirmed my greatest admiration. For this reason, I dare to regard it as a constellation of what we imagine of heaven, land, and water. Wherever we gaze, the crystallized sunlight that touches the bay's water surface appears as a panorama that comforts the soul. The limestone rocks on the karst hills that stand strong in the form of a line high above the water look just like pillars that hold the sky. Those ancient stones would remind us of temple blocks that have been living from distant times. The island lies against the turquoise blue-green sea color background and fenced by karstic cliffs that rise in various shapes. It surely is an unexplored and hidden paradise.
There are many amazing tourist sites on this island. Its waters are like that of the Amazon underwater forest because they contain a diversity of coral reefs and fish species. This area is home to approximately 400 species of coral reefs, 75% of ornamental fish species, and various megafauna – a collection of whales, sharks, octopus, as well as Manta rays that swim in this giant aquarium. Numerous underwater hills stand firm there, decorated with diverse coral reefs. You will be intrigued to dance along with the rhythmic and continuous movement of soft corals and bahar roots, coreographed by the ocean's current flows. You can also enjoy groups of limestone islands, bays, straits, karst hills, and clear seawater that would let your imagination runs free.
I imagined a majestic and tranquil ancient kingdom above the sea embellished by a shady water park as I passed the islands of Sunmalelen, Sunbayo, Yapap, Dafalen, Lenmakana, Namlol, Balbulol, Harfat Peak, and other small islands. They form a complex set of island maze. Having a guide cruising through these group of islands is a must to avoid getting lost between the winding cliffs of karts. The karts form various formations, such as royal gates, temple reliefs, crowns of the kings, phallus-yoni symbols, hearts, Christmas trees, twin towers, and strongholds. Therefore, in my opinion, Misool should be recognized as the Kingdom of the Sea, The Paradise Island of Raja Ampat. I would present you a more detailed description of Misool in my future article.
Batanta.
The island of Batanta has its uniqueness that worth mentioning. Like any other island, it consists of mountains and hills extending from the middle of the island all the way to the coast. This island has not yet been developed as a tourist destination. Besides diving and snorkeling, you must do some trekking to enjoy its beautiful waterfalls. The 10 meter-high waterfall would pamper you with refreshing water and stunning natural scenery. It's surrounding area is beautifully decorated with colorful river rocks of different shapes scattered around the waterfall.
Where can you stay?
There are various budget considerations on accommodation to choose from. They start from as low as 500 thousand Rupiahs (about US $30-40) up to millions of Rupiahs (thousands of dollars) per night. Lodging places are available in most Raja Ampat islands. You can either stay at Five-star hotels and resorts to cottages and homestays managed by the local people.
Raja Ampat which was once a quiet and untouched area has transformed into a world marine tourism center. Sustainable development is taking place here, even today. And I am so fortunate to witness the changing development and improvement of the place.