Word: Ayu Arman
Coral reefs in this islands cluster represent all types of existing coral reefs in the waters of small islands in Sulawesi. Similarly, various species of coral fish, pelagic fish, and demersal fish, represent all existing and non-existing fish species in Sulawesi waters.

For foreign travelers, especially divers who have experienced the sensation of natural and underwater beauty, Kapoposang is a magnet that keeps them coming back and back again. They describe Kapoposang Islands cluster as an exotic little piece of paradise in eastern Indonesia. Various types of coral reefs, coral biota, pelagic fish, demersal fish, and other marine biota are easily found, especially when doing diving activities.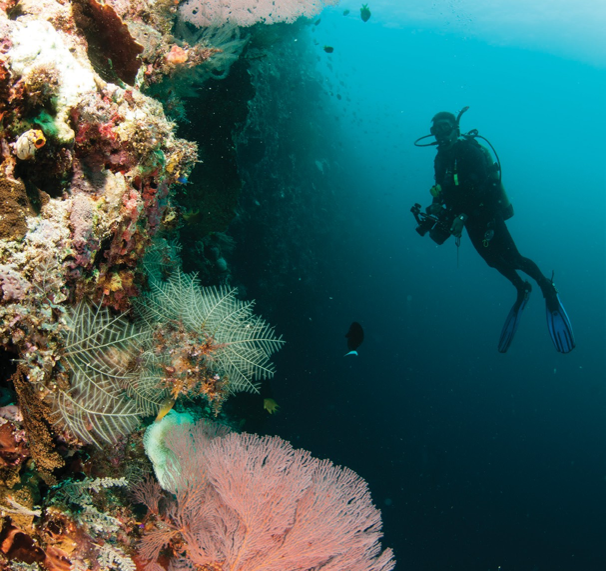 The island has a fairly large coral reefs, an estimated 1,156 hectares extending westward. From the shoreline to the depth of 3 meters, you will immediately meet various types of seagrass bed which become one of the characteristics of Kapoposang Island cluster, among others are Enhalus Acoroides, Allasia Hemprichii, Cymodocea Rotundata, Cymodocea Nonosa, Syringodium Filiforme, and Halophila Minor.

It is in the various seagrass beds marine life in the form of colorful coral fish lives. You will feel the sensation of swimming in a large aquarium with small coral fish such as lionfish (Pterois Volitans) and double saddle butterflyfish (Chaetodon Ulietensis).

When the sea water recedes, coral reefs form a land (reef flat) up to as far as 200 meters to the edges with a depth of 1 to 10 meters. At such depths, you can find several families of hard and soft corals, anemones, sea fans, and coral bloom. The most common types of corals found are Acropora sp., Pocillopora sp., Porites sp., Goniopora sp., Alveopora sp., Pectinia sp., and Lobophyllia sp.

It is in the marine park lives "nemo" fish, adorable little fish with various color which become favorite fish and fun friends to the divers when the safety stops at a depth of 3 to 5 meters.

Various studies show, there are various types of coral fish in the waters around Kapoposang Island. Ranging from rare species in the world such as lionfish (Pterois Volitans), picasso pearl faced triggerfish (Rhinecanthus Aculeatus), napoleon (Chelinus Undulatus), up to parrotfish.

Other inhabitants of the Kapoposang coral walls are penguins (Gomphosus Varius), butterflyfish (Chaetodon sp.),  catfish (Plotosus Lineatus), lizardfish (Synodus sp.), grouper (Cephalopholis Miniata) and yellowtail fish (Caesio Cuning). There are also angelfish (Centropyge Multifasciatus), flagfish (Heniochus Singularius), sergeant major fish (Abudefduf sp.), moorish idol (Zanclus Canescens), and many more.

If you take a speedboat from one island to another in the waters of Kapoposang, you will often encounter  groups of grey dolphins (Tursiops Truncatus). Kapoposang Island has also underwater caves on the coral walls populated by turtles, lobster, crabs, scorpions, eels, to small animals such as nudibranchs in various eyes-spoiling types and colors.

Sometimes, in some segments of coral walls, there appear stingrays of spotted eagle type, flatfish/flounder, stonefish, crocodilefish, schools of barracudas, and numerous small eels appear beneath the sand bed.
The underwater beauty of Kapoposang Island can also be enjoyed at night. Its underwater scenery offers a different sensation. Even from above the water the divers have been greeted by sea-fireflies. When going deeper, flashlight makes coral reefs like reflecting light. Similarly, coral fish, such as parrotfish look more blue and charming, oriental sweet lips with their beautiful lines of color, and the beautiful swirl of spanish dancer as if Spanish dancers  expanding their longdress. There also appear green turtles and hawksbill lying leisurely in the mouth of the coral caves.

For divers, once again, Kapoposang is an underwater paradise, since the waters is obvious, and the visibility is superb. Its dive spots are drop offs, walls, and many areas inhabited by tuna, sharks, and marine mammals such as dolphins and whales which pass at particular times.

According to some dive guides in Kapoposang, whales which usually appear in Kapoposang are of pilot whales and shark whales. The whales arrive between September and October. "Usually, the whales come in pods, can be in two to three pods. Each pod consists of three to four whales. It is easy to know when they come. If there are a lot of anchovy in Kapoposang, it means there are whales here. Here, they stay up to a month," said Ian, a dive trainer from Makassar who has been a dive guide in Kapoposang for years.

Almost all dive sites in Kapoposang offer deep dives, although shallow dives which are no less interesting are there as well. Some overhangs can be spectacular photo objects. And all the dive sites are located around islands nearby resorts and homestays.

These diving spots have their own names which are popular among local divers. Among others are Aquarium Point, Tanjung Point, Shark Point, Turtle Point, Ian Point, Nakano Point, Januar Point, Killing Fiela Point, and Teluk Point. These diving spots are all located around Kapoposang Island and each has its own uniqueness. Come between April and November. Those months are the best time to dive and enjoy the underwater paradise of Kapoposang in every dive site. If you have enough free time, try to begin from the easternmost diving point and end at the westernmost dive point. Start from Ian Point, then consecutively to Januar Point, Aquarium Point, Turtle Point, Tanjung Point, Cave Point, Teluk Point, Nakano Point, Tanjung Point II, Marjono Point, Shark Point, and end  at Killing Fiela Points.

In Tanjung Point, for example. This diving point becomes the most favorite location for anglers and spear fishing lovers who use spear gun to shoot fish. In this location, there are big pelagic fish, ranging from black tip and white tip sharks, barracudas, giant trevallies, rainbow runners, dogtooth tunas, to groupers.

After going fishing, swimming, diving, and taking underwater photography, it is time to enjoy fish cullinary. In Kapoposang, you can enjoy soy-sauced grilled fish, chili-sauced grilled fish, or chili and soy-sauced fried fish , sashimi, up to fish head soup. Tantalizing, is not it?

The access to transportation to Kapoposang Island cluster is relatively easy. To get there, you must take a speedboat from Paotere Port or Popsa (Persatuan Olahraga Perahu Motor dan Ski Air (The Association of Motor Boat and Water Ski Sports)) in Makassar City. You can also go there through the Semen Tonasa Port or Maccini Baji Port in Pangkep. You can also use a longboat or regular motor boat used by local community.

Since Kapoposang Marine Park is a conservation area, your cognisance to participate in preserving its sustainability is highly expected.